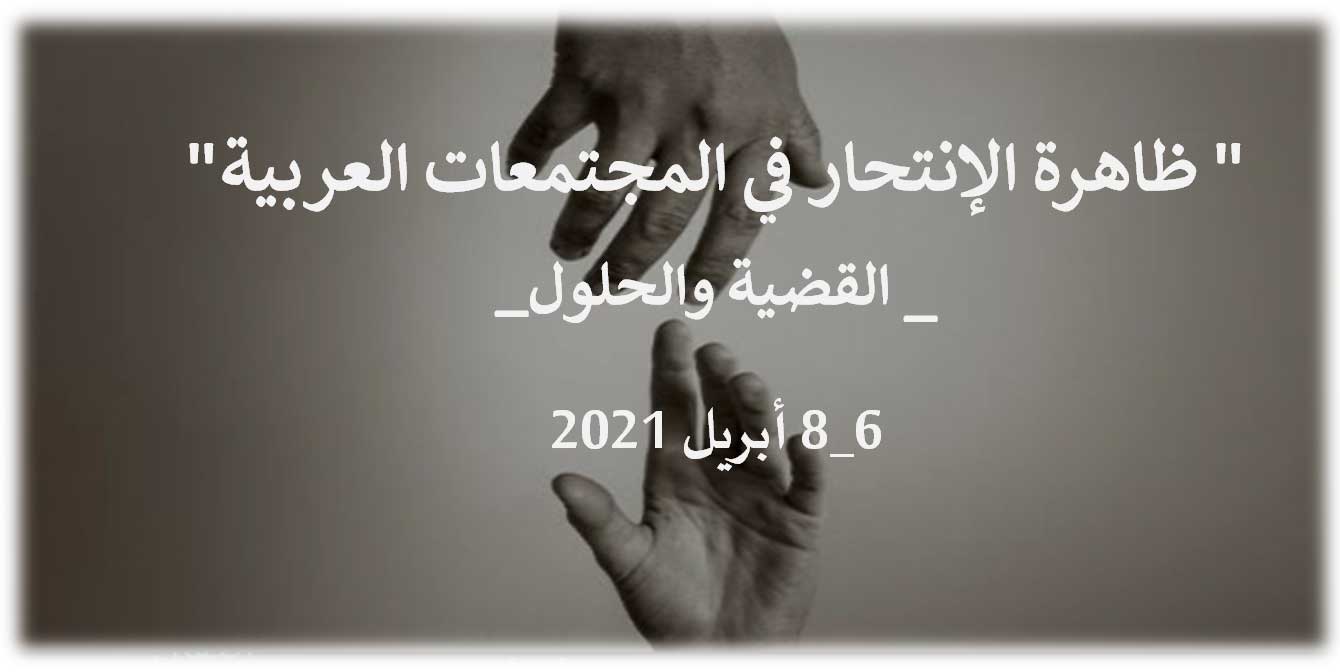 EAEU, BRC HUMANTARIAN & SCIENTIFIC INSTITUTION, FACULTY OF NURSING & FACULTY OF ARTS-TAKREET UNIVERSITY PRESENTED:
THE SECOND INTERNATIONAL FORUM TITLED:
                THE PHENOMENA OF SUICIDE IN ARAB COMMUNITIES. (Issues & Solutions)
6-8 April 2021.
FORUM ISSUE:
Our communities take into consideration various dimensions of stability and social balance because of total economic, cultural, social, pedagogical and religious privacy that affect individuals and community whole life perception. Malfunction standard at social construction level may lead to many varying impact problems & psychological & social dimensions. For instance, suicide phenomena that Amyl Dorkime, the well-known sociologist & thinker consider it as one of the most sensitive issues that need deep knowledge of individual's life in the social, values and religious side. This phenomena need to be focused on to find out its causes and providing suggestions that contribute on societies and individuals awareness of how this issue is risky for both of them.
Adoption of suicide idea make us meditate health, social and psychological as first determiners for its appearance. Thus, this forum targeted the following:
Determining the most prominent sociological and psychological understanding dealing with Suicide phenomena.
Trying to understand Suicide causes in Western and Arab communities.
Providing Middle East studies and solutions to reduce the phenomena.
FORUM AXIS:
AXIS 1: Knowledge Domains in Suicide Phenomena Study & Understand.
Suicide phenomena chronology.
Analytical, psychological & health Theories of Suicide Phenomena.
Fundamentals of Suicide Character Formation.
Sociological Prospects of Suicide.
Psychological Features of Suicide Desires & Tendencies.
AXIS 2: Information & Sociological Problems & Suicide Phenomena.
Unemployment, Poverty, Children employment, Study of Causes, Dimensions & Inception of Suicide Idea.
Psychological Problems & Suicide (Depression, Family Pressures, Anxiety….).
Classic & Modern Media's Role in Raising Awareness to curb Suicide.
Hero-worshiping of Autopsy Photos & Media & Motivation to imitate them.
Ignoring suicide causes and its effect in concealing symptoms.
AXIS 3: PSYCHOLOGICAL HEALTH & ITS AFFECTS ON PHENOMENA PREVALENCE.
Relationship between inheritance factors & mental diseases that led to suicide.
Available methods of early diagnosis & psychological and mental therapies that lead to suicide.
Psychological support for individuals in wars & conflicts areas to maintain their mental health.
Reactions of various addiction types with suicide.
AXIS 4: RECOMMANDATIONS OF REDUCING SUICIDE:
Role of psychological & mental institutions in reducing suicide.
Culture, religious, family raising & reducing suicide.
Law & scientific institutions and reducing suicide.
Dealing with media & coping mechanisms.
Institutions of civil &health communities & coping mechanisms.
PAPERS CONTROLS & DEADLINES:
FIRST: DEADLINES, E-MAIL & PLATFORM.
Agreement to open the briefs from14 Feb-24Mar.
Forum date 6-8 April2021.
Conference communication platform.
Zoom platform. Forum E-mail:
SECOND: PAPERS SUBMISSION:
Broad summery including the title, idea, issue, method, goals, content nature, results & recommendations all these in at least 6-8 pages.
Accepted researches will be submitted after the forum with 45 days.
Researches will be disseminated in Turath Journal Ziad Ashore University. Algeria.