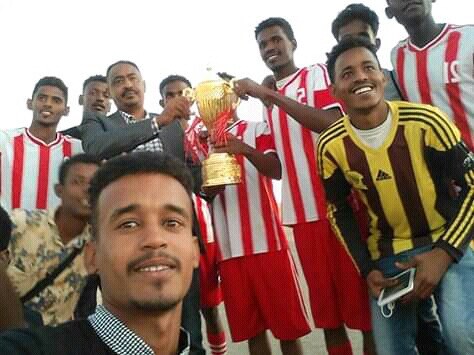 In a wonderful scene full of inspiration and youth bloom, the two champions of Martyr soccer league groups at Elshaikh Abdallah Elbadri University met and show true determination to win the cup. On Monday evening in the last days of this year 29/12/2019 at Berber, football stadium. It was a mysterious powerful match that deserve to attend, but soccer as life; not guaranteed, only God decide the fate. The match ended 0-0 so referees team announced penalty strokes.
Faculty of economics & management sciences team advanced with four goals compared to its competitive faculty of engineering, which score two goals. Martyr league cup goes to Economics students.
Martyr league was been honored by the presence of:
* Dr. Alsaggad Abdallah Elbadri, Acting Vice-chancellor and Principal of the University.
* Dr Musaddag Gareeballah Elbadri dean of students' Deanship.
*Dr. Musharraf Alsideeg Elbadri, Scientific Affairs Secretariat.
*Dr. Mohammed Kheer dean of Faculty of Economics & Management Sciences.
* Dr. Hussein Abdullatif dean of Faculty of Engineering.
* Dr, Ismail Abdalgaleel dean of Faculty of Post-graduate Studies.
* Dr. Ameen Mohammed Alfaki, head of Students Support Fund in the state.
* The director of National Intelligence Service in the district.
*The director of Health Insurance Fund in the district.
*Mr. Babiker Maleah, one of the famous media figures.
*a number of faculties deans, head of some departments, directors of centers, administrators, personnel, a huge number of students and Berber citizens.
Eventually, we should admit that all these success and beautiful arrangements, cooperative spirit and solidarity returns to the students 'dean and his great efforts for the success of this league, May Allah accept that and reward him.
DEPARTMENT OF INFORMATION & PUBLIC RELATIONS.