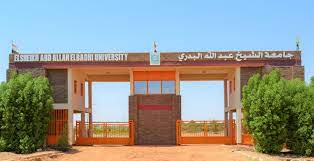 The Secretariat of Scientific Affairs congratulates the students admitted to the various faculties of the university for the year 2022-2023 and wishes them a brilliant scientific future.
It announces the start of registration for new students accepting 2022 on Sunday 20/11/2022 AD until Saturday 3/12/2022, noting that the lists of unregistered students will be uploaded on Sunday 4/12/2022 to delete it and provide an opportunity for other students.
The registration process is done through the following steps
Required Documents
The national number and the number of four photographs
Registration processes :-
سحب استمارة التسجيل من مكتب المسجل وفتح الملف .
Withdraw the registration form from the registrar's office and open the file.
Conducting a medical examination at the university's health unit
Student Supervision Office (card procedures – review of regulations – signature of the acknowledgment)
Return the registration form and the rest of the documents to the registrar's office to put in the file
To know the registration fees and tuition fees for each college, please review the official website of the university.
www.eaeu.edu.sd Scientific Affairs Secretariat