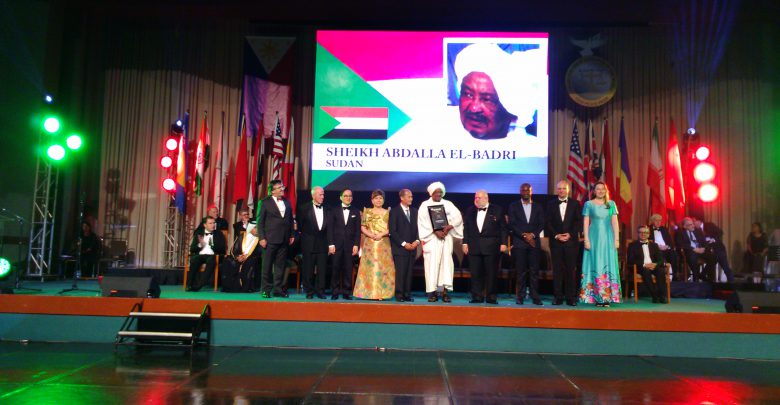 Biography
Fadilat Maulana / ELSHAIK ABDALLAH ELBADRI, the founder and Chairman of the Board of Trustees of the University of ELShaikh Abdullah ELBadri
Name: Abdullah ELBadri Tahir Nafi.
Title: Sheikh / Abdullah ELBadri.
Age: 75 years
Gender: Male
Marital status: Married and father of four sons and two daughters.
Tribe: On the father's side belongs to the tribe of Al-Abdallab and on the mother's side belongs to Al-Tayyab, a branch of the Jaaliyeen tribe.
Residence: Sudan – River Nile State – Berber – ELGdwab, Quranic School of ELShaikh Abdallah ELBadri.
Profession: Founder and Chairman of the Board of Trustees of the University of ELShaikh Abdullah ELBadri and Secretary of ELShaikh ELBadri Complex
Address: River Nile State – Berber – ELGdwab, University of ELShaikh Abdallah ELBadri
P. O. Box: 25
Qualifications: Jebait Industrial School – Diploma, Specialization: Electricity – memorization of Quran when he was young and studied the sciences of religion by his father Maulana Shaikh / ELBadri Abdallah
Experiences: He worked in (Atbara) Railway Station in the workshop of electricity as electricity technician 1961-1973.
He succeeded his father as a religious leader after his death and became Imam for the prayer-performers in his old mosque Berber Godab. He has been a religious leader since 1973 and until now.
Achievements:
Al-Sayeda / Soad Model Model Kindergartens – Berber – ELGdwab, founded and built it at his own expense in 2004.
Shaikh ELBadri Quranic Basic School – Berber – ELGdwab, founded and built it at his own expense in 2005.
School Of Um ELFugara Bint ELJunaid Secondary School – Berber – ELGdwab, founded and built it at his own expense in 2010
Shaikh ELBadri Secondary Institute – Berber – was founded and built at his own expense in 1988
Faculty of Islamic and Arabic Sciences – The University of the Nile Valley, donated the buildings belonging to him to be the headquarters of the College in 1991 in Berber –ELGdwab upon the breakthrough of the revolution of higher education.
Faculty of Sharia and Law – University of the Nile Valley, a donor of buildings belonging to him to be the headquarters of the Faculty in 1991 in Berber – When the education revolution broke out.
University of ELShaikh Abdullah ELBadri – Founded and built at his own expense and is he now Chairman of the Board of Trustees of the University.It includes the faculties of Engineering – Technology – Administrative and Economic Sciences – Pure Science – Health Sciences which comprise (laboratories, nursing, and Diploma of Pharmacy) – Faculty of Medicine. There are faculties and programs under ratification ( pharmacy – Graduate Studies – Media – Computer Science – University Hospital )
Field Marshal ALBashir Center for Memorization of Quran professionally. It the first idea that was originated from of ELShaikh Abdullah ELBadri Technical College in 2002, which was the nucleus of the announcement and the establishment of the University in 2011
The three residential complexes were intended to be residences for the students of the University of ELShaikh Abdullah ELBadri
The buildings of Sheikh / Ibrahim ELosoli Quranic School in Berber ELGdwab in which his father was learning the Quran and its related Sciences were renewed at his own expense and on the latest model.
Many endowments were built to be supportive to his father, Maulana ELShaikh ELBadri Abdullah Quranic School, to receive the guests, visitors, and students and to be supportive to the educational institutions which he built and founded at his own expense, namely commercial and residential
He built the tomb of his father, Maulana ESheikh ELBadri, after his death, who was Imam of prayers-performers of his ancient mosque in Berber ELGdwab in 1973 and its place is on the south-eastern side of the mosque
Awards & Prizes: